Well, looks like a new year has started. And in 2011 we'll expand on some of activities on this blog and change things a little bit. One thing will still remain the same:
We'll have fun!
One thing that will not change (completely!) is our weekly blog linky. We'll move a focus a little bit from last year and not going to host themed linkies. Instead we'll have show your best linky where you can add your best posts, pages, etc. about fun time you had with your toddlers. And we're changing a linky button to: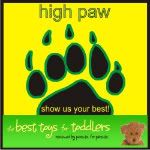 With bear being our blog's and Club's mascott, somehow it looked natural to make it into "high paw" instead of high five :)

High paw

linky will run as usual every Friday. Although we'll host several thematic linkies over year (for Valentine's day, Easter, etc.). Still, we're going to share some of the best picks from last week's linky with our followers on Facebook and Twitter and try to promote all the great ideas and share them with other parents!
We're going to throw couple giveaways this year, with first batch upcoming before Easter. We're actively looking for sponsors attempting to give away items that are both educational, fun AND age appropriate for toddlers. After all, this is blog sharing about best toys for toddlers! :)
Next, we'll share about best available toys on market with personal recommendations created by our Club's members. All of the toys and games recommended here will be tested and approved by parents, grandparents AND toddlers! We'll also try to give ideas how to use those toys beyond producer's description on the box.
And, we'll look around web for great applications, games, printables, giveaways and freebies for our toddlers.
Well, it sounds like work! LOL
Thank you all for following us so far and hope to see you around in 2011!
We are anticipating all of you to participate in making lives of our toddlers fun, active and full of educational tidbits! ;)