This giveaway is now closed!
Well, this is first ever giveaway on this blog! :) Hope it will be a success! And, hopefully you'll like what we're giving away!
To one of our readers, we'll give away
$25 Gift Certificate
for any product you choose from
Zazzle.com
!
If you haven't purchased anything through Zazzle.com, here are some basic information:
Zazzle is the world's leading platform for quality custom products.
Zazzle's proprietary technology enables individuals, professional artists, and major brands, including
Disney
and
Hallmark
, to create and offer billions of unique products for customers worldwide. Zazzle's rapidly expanding product base covers every topic imaginable and includes
t-shirts
, business cards, invitations, in addition to a variety of custom gifts.
When ordered, each product is made on-demand, typically within 24 hours.

How to participate in a giveaway? Each one of these activities counts as one entry:
- Subscribe to our blog using Feedburner and get updates through mail (link is on the top of the right column)
- Follow our blog through Google reader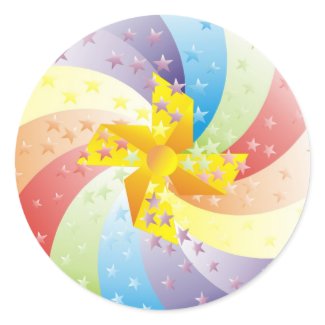 Rainbow Sticker
by
Willowdesign
This giveaway will be open until October, 31st and one winner will be chosen through
random.org
.
If the winner doesn't reply on a mail and claim a prize in 2 weeks, next one in the line will receive a prize.
You must leave a comment here telling us what activity you did and it will count as an entry!